Amsterdam School of Arts
Amsterdam School of the Arts selects CardsOnline as a complete card management system
Client Profile
Government-funded institution of higher professional education
Educate students to work in the national & international field of art & culture
Fine Art in Education, Music, Film, Theater and Architecture
A Recognizable position in the creative metropolis Amsterdam
Amsterdam School of the Arts migrated from an early day ScreenCheck Card Management System to the latest generation of CardsOnline. Integrated with their new IDM Identity Management System, Access Control and Cashless Payment Systems, CardsOnline 7 creates one central, full integrated system for enrollment, printing/ encoding and issuing multi-purpose student ID smartcards, offering full card control in one system.
The Challenge
Implementing the new IDM Identity Management System, Amsterdam School of Arts required a new Card Management System (CMS) connecting to the Student- and Employee administration systems (source systems). Amsterdam School of the Arts specified the new Card Management System to use web services, for seemless integration with various systems, providing a single application to manage all card related activities.
The Card Management System should enable easy enrollment, printing/encoding and issuing the cards realizing a real one-card-solution for production and managing the ID card. With the implementation of the new Card Management System, Amsterdam School of the Arts planned to change from a OneYear- to a Multiple-Year card.
Our Solution
ScreenCheck offered a local CardsOnline implementation with a webservice interface connection to the IDM of Amsterdam School of the Arts for importing persons data and exporting trigger based card status changes.
ScreenCheck integrated a new Card Printer SC7000 with laminator to apply a high wear resistant laminate protecting the Multiple-Year cards. Data exchange between various sytems (Student Information, Closed Site Payment and Access Control) and CardsOnline is handled by data agents (webservices/cronjobs etc).
The Service Portal by CardsOnline provides a unique feature to send an email request/notification noting students to login to their Service Portal account and remotely capture or upload a picture and edit their information. No longer requiring taking pictures on-site.
Project details
Software: CardsOnline 7
Server: Redhat Enterprice Linux distribution PHP/MYSQL/Apache on VM server
Card Printer: SC7000 Re-tranfer printer with Omnikey MIFARE DESFire encoder
Laminatior: CF-L700 Card Laminator
Aux: Webcam and IPcam for Photo capturing
Card Type: MIFARE EV1 2k DESFire
Card Amount: Card Approx. 7000 Cards Issued
Project sheet
7000
APPROXIMATE CARDS ISSUED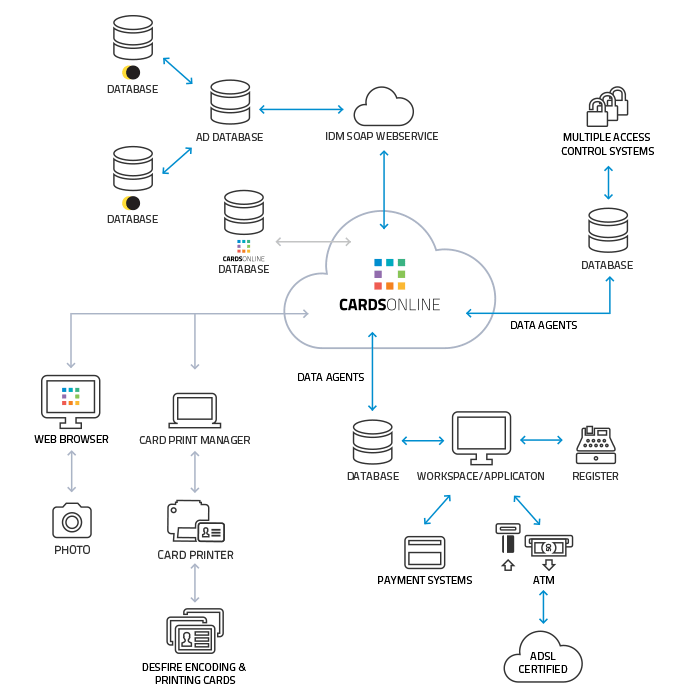 Connected systems
Access Control Systems (online & offline)
Copy and Print Systems (Multifunctionals)
Examination Presence Registration System
Vending Machines
Locker Systems
Library Systems
CardsOnline enables the Amsterdam School of the Arts to offer it's students and employees one ID smartcard that can be used for identification,
access to the school and related buildings such as the Library and make payments for Catering and Follow-me Printing & Copying.